When we think of Las Vegas we tend to think of the gaming industry. Most people are aware of colorful characters like Bugsy Siegel and Meyer Lansky who helped bring casinos to Las Vegas. However fewer are aware of our rich history of business and do not know much about business people who made their fortunes away from "The Strip".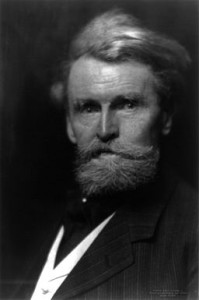 Originally part of Mexico, the area around Las Vegas was sparsely populated until significant well digging took place. The availability of water attracted railroad tycoon and U.S. Senator William Andrews Clark.  Clark used what is today Las Vegas as refueling stop for the cross country railroad network he was building. When the U.S. government decided to build Hoover Dam the population of Las Vegas boomed, growing 5,000 to 250,000 people overnight. The inrush of single men with extra money on their hands resulted in the growth of the casino industry.
By the fifties Vegas was quite literally booming. Of course the expanding gaming industry brought growth, but the establishment of major military bases, including the forerunner to the mysterious Area 51 spurred growth. In fact one could pay to witness a nuclear test !!!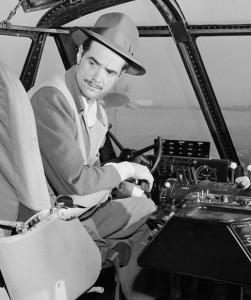 In the 1960s the enigmatic Howard Hughes came to Vegas largely to pursue contracts for Hughes Aircraft.  When told he had to leave his hotel he simply bought it. This began string of acquisitions that would see Hughes buy many of the hotels and casinos owned by organized crime and led to the more business oriented gaming of today.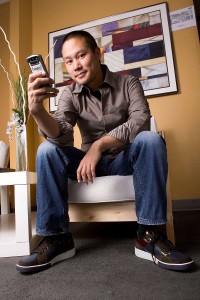 Today the entrepreneurial spirit is alive and well here. Tony Hsieh is a local legend. He founded the Zappos shoe company and made a fortune. Part of his philosophy was that he wanted a liveable fun working environment. When he was planning to move his headquarter from outside of the   city  to downtown, he was disappointed that the area was not well developed. Downtown Las Vegas does not get the attention that "The Strip" does. He decided to invest in his city and make downtown Las Vegas the next Austin or Bay Area.  He literally purchased city hall as his new headquarters and is now working to re-engineer the area. He calls it "Playing REAL Sim City".

With visionaries like Clark, Hughes and Hsieh the future looks as bright for downtown as the lights of "Glitter Gulch". If you want to bet a city that's on the move come to Las Vegas. If you do come our way, call your friends in the moving business, All My Sons Moving & Storage.

Images courtesy of Msrivergirl, "Tony hsieh" by Delivering Happiness Book and Wikipedia.

This entry was posted in